About us
A Message from Management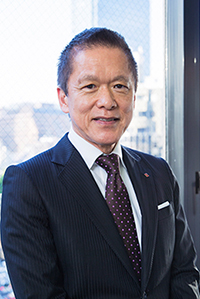 Since its establishment in 1936, Tosoh Quartz Corporation has been delivering high precision silica glass (quartz) products to the market for 80 years. During this time, our quartz products have been used for an increasingly wide variety of applications and become indispensable for the manufacturing of semiconductors, optical cells, and LCD and OLED panels. Furthermore, with our high-quality precision quartz products now also being used for important medical diagnostic instrument and aerospace applications, Tosoh Quartz is at the forefront of a wide range of fields.
Tosoh Quartz is a member corporation of diversified chemical manufacturer, Tosoh Corporation. Working closely with their Advanced Materials Division, we have combined forces with our Tosoh partners to establish a reliable system for supplying high quality quartz products. This includes everything from the manufacturing of quartz materials to the processing of finished quartz products. Currently, we have four domestic production bases (material and machining) in Japan, and overseas operations in Taiwan, the U.S. and U.K. We deliver high quality quartz products and customer-oriented services through our worldwide sales network.
In order to meet the demands of an ever-expanding market, our in-house R&D system covers the entire development process, from creating unique new materials to developing original machine processing technologies and precision processing machines. Our new medium-term business plan calls for the introduction of clean and automated cutting-edge equipment to our manufacturing and supply system as part of our commitment to achieving sustainability.
We pledge to do our utmost to sincerely listen to our customers, uphold our reputation for delivering reliability, and provide new value to the market in order to achieve our mission of "Realizing a bright and prosperous future."
Management Principle
All employees to display the highest level of professionalism while always seeking new challenges.
All group companies in every region to pool their wisdom in a collective effort to add new value to our products.
Fulfill our corporate social responsibility by producing quality products and ensuring overall safety.
Respond proactively to ESG (environment, Social and Governance) challenges.
We will develop management systems in accordance with the abovementioned policy.
Quality
We will deliver products and services that satisfy our customers' demands while complying with applicable laws and ordinances in order to increase customer satisfaction.
Environment
We will comply with relevant laws and regulations and monitor the environmental impact of our activities in a systematic fashion in order to reduce our environmental footprint.
Occupational Safety and Health
We will comply with relevant laws and regulations, assess and control workplace risks, and heighten our performance.
President, TOSOH Quartz Corporation
April 1, 2018